Iron Reapers
5 Star Unit · Max Level 30 · 315 Leadership
Golden Era
·
Melee Infantry
·
Unit Count : 16
Iron Reapers · Melee Infantry
Characteristics
Dual Wielders
The unit has two different weapons
·
Bashers
This unit inflicts blunt damage
·
Very Heavy Armor
This unit has heavy armor, which protects them but compromises their maneuverability
·
Sluggish
This unit takes time to change direction and build up to full speed
·
Insulated
This unit is difficult to set on fire, and takes less damage from fire when ablaze.
Formations
The unit spreads out a little to lessen the damage from ranged attacks

A narrow formation effective for charging under enemy fire.

The Unit stands in two ranks, making it superior at making frontal attacks

Unit Orders
The unit rushes to the marked spot and deals 300% damage to the first enemy it encounters.
Restores 250 health for 15 seconds.

Recommended Doctrines
- Click for details
Unit Kit - Iron Reaper Kit
Similar Units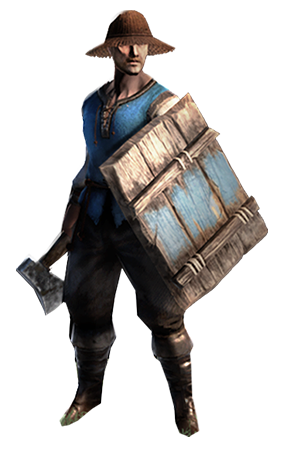 Woodcutters
charge
Rustic Era